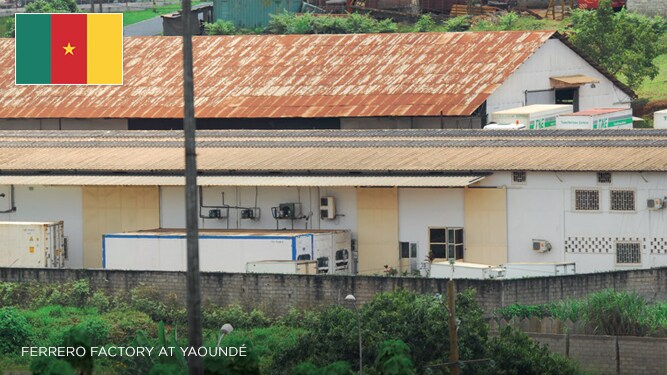 Cameroon
Cameroon is where the first Entrepreneurial Project, now named after Michele Ferrero, began in 2005. 

The Group is currently present in the country with its own production plant in the capital Yaoundé as well as a commercial and logistics hub in Douala.

In 2009 Ferrero had approximately 90 workers, which increased to 251, already by 2015. Of this figure, as of 31.08.2015, at least 60% were female workers.

The Ferrero plant not only produces products for the Cameroon market, but also for Nigeria and the CEMAC (Central African Economic and Monetary Community) free trade area which, in addition to Cameroon, includes the following five states: Chad, the Central African Republic, Equatorial Guinea, Gabon and the Republic of the Congo.

In Cameroon Ferrero is also involved in researching the local raw materials, especially cocoa, used to make - currently still in the experimental phase - semi-processed products which, in turn, are utilized by other companies of the Group.