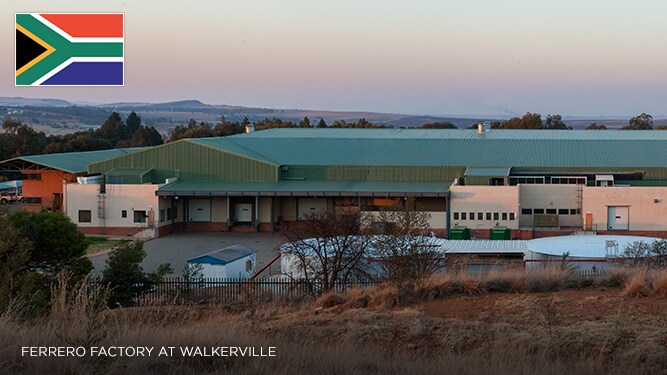 South Africa
In South Africa, after an initial experimental phase, initiated in 2006, the second Michele Ferrero Entrepreneurial Project was launched the following year.

In 2009, a modern production plant was built in Walkerville (Midvaal) in Gauteng - one of the South African regions with the highest rate of unemployment - in an area characterized by a low level of urbanisation, about an hour from Johannesburg.

The Group's current commercial offices in the country are based in Johannesburg.

Still in 2009, Ferrero had approximately 185 workers, a number that was more than double by 2015 (totalling 440, of which most were female workers).

The Ferrero plant not only produces products for the domestic market, but also for the whole free trade area known as SADC (Southern African Development Community), which, along with South Africa, consists of the following 14 states: Angola, Botswana, the Democratic Republic of the Congo (DRC), Lesotho, Madagascar, Malawi, Mauritius, Mozambique, Namibia, Seychelles, Swaziland, Tanzania, Zambia and Zimbabwe.